Faculty Spotlight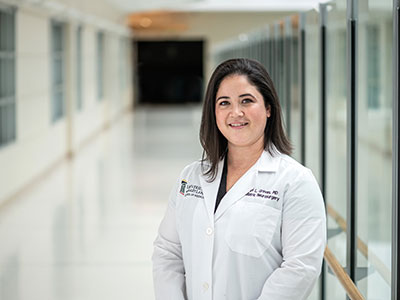 How do you describe being a pediatric neurosurgeon?
I would describe being a pediatric neurosurgeon as challenging, extremely humbling, and last but not rewarding when you see the positive effect that you have had on a patient's and their family's life.
What are your specialty areas? What are some common procedures you perform or conditions you treat?
Brain tumors, Chiari Malformations, Epilepsy, Hydrocephalus, Intramedullary spinal cord tumors, Lipoma, Myelomeningocele, Spinal Deformity; Scoliosis, Skeletal Dysplasia, Spina bifida, Spinal Cord Injury, and Dysraphism.
What drew you to the complex specialty of pediatric neurosurgery?
This Specialty allows me to tackle complex diagnosis and help improve the quality of life.
What are your research/professional interests?
My research interests focus on pediatric spinal disease and how surgical intervention can impact the growth and neurological function over a child's life. Many children are diagnosed with a debilitating spinal disease very early in their life and our understanding and appreciation of this is growing day by day.
What is the most satisfying aspect of being a neurosurgeon?
Everyday I come to work and I am humbled to be able to offer my counsel to families faced with difficult and sometimes impossible decisions regarding the left and treatment of their child. As a mother myself, I can understand the fear and apprehension that might surround surgical solution to a life-altering diagnosis and I am incredibility humbled to be apart of that healing process.
What brought you to Baltimore and the University of Maryland/UMMC?
Maryland's commitment to providing patients with the best individualized care
What would the most meaningful thing you would want people to know when it comes to pediatric neurosurgery? Or What is some common advice you share with patients/potential patients?
For patients and potential patients (parents) Maryland is dedicated to providing the patient with the best care and I hope that parents feel confident that the treatment team and my self at Maryland will give their child the best individualized care possible.